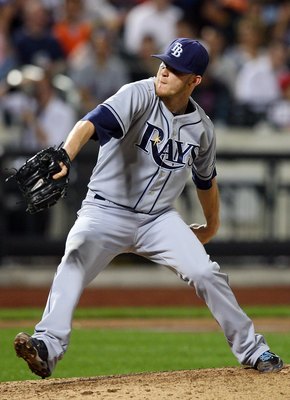 More times than not, Rays fans were left with a bad taste in their mouth last season when JP Howell would take the mound. He was inconsistent, erratic, and not getting the job done. In other words, he did what happens to most pitchers recovering from major shoulder surgery.
Watching him pitch today against the Yankees, it's clear he is fully recovered from his surgery. His velocity, pitch movement, arm action, and pitch location were all fantastic. He was getting bad swings against all three of his pitches, especially his changeup and fastball. He mixed in a few curveballs, and when he got them down in the zone, they had excellent downward tilt.
For all of his struggles last season, Howell still fared well against left handed batters holding them to a .222 batting average. It was right handed hitters that lit up Howell last season. When he gets excellent action, as he did today, on his fastball and changeup, he will be able to neutralize right handed batters. His curveball is effective against righties, as well. What made him so dominant in 2008 and 2009, was that he fared well against hitters from both sides of the plate. In 2009, righties hit a meager .159 against him.
A pitcher that can fare well versus lefties and righties is someone that makes a good "fireman" for the most crucial situations in a game. Joe Maddon likes to mix and match, but when you face the Yankees it can be difficult to do that because of the switch hitters and the lineup alternating lefty and righty. You need a good "swing man" that can come in and face Arod(R), Cano(L), and Teixiera(S) in a crucial situation. Howell can be that guy, and that's why I expect for him to be the go to "fireman" in non save situations this year based on what I've seen this spring.