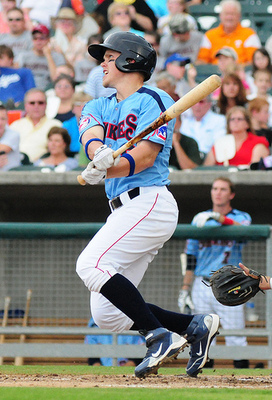 With it appearing likely that B.J. Upton will begin the season on the Disabled List, along with the fact that Sam Fuld may miss a large portion of the season due to a wrist injury, the Rays are going to need one of their younger players to step up. There is one name, in particular, that stands out as someone with upside that has the ability to impact a game offensively.
Brandon Guyer wasn't one of the key pieces to the Matt Garza trade. But he was seen as a nice "potential" addition because his skillset oozed with tools. In 2010, he showed he could hit, hit for power, and steal bases. He posted a slash line (Batting Avg/On Base Avg/Slugging Pct) of .344/398/.588. Not only did Guyer show he could hit, but he stole 30 bases in only 33 attempts. In 2011, he was able to show that 2010 was not an aberration by posting a line of .312/.384/.521 in his first taste of AAA.
While he may have been a bit old for each level, it certainly appears that he could be a capable fill in for the Rays, but where does he fit? With B.J. Upton on the DL to start the season, he profiles well as the 4th outfielder, and can start in LF against left-handed pitching. In 2010 and 2011, Guyer posted OPS's of 1.018 and .979 respectively versus left handed pitchers. For some perspective, Robinson Cano's OPS last season was .882.
It will be disappointing if the Rays choose to fill the open roster spot with a retread that has little upside, when they have a player with Guyer's offensive ability available to fill in. Knowing this front office, the correct decision will be made.